Woodpecker electric hammer Marbleo & Wood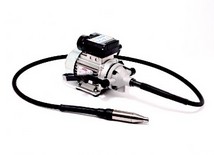 MARBLE WORKING =
MEDIUM ROUGH GRINDING
WOOD WORKING =
ROUGH GRINDING AND FINISHING
The Woodpecker electrical hammer is a tool designed for th artistic working of marble , stone and wood. The main features of mechanical hammer is the controllable percussion strength with is automatically triggered according to the pressure exercised on the hammer.This allow for the use of the hammer in delicate working and medium rough grinding.
With the innovative system of adaptor ( that we are the ideator ) the woodpecker hammer can be used with a large number of sculpting tools like: teeth chisel , carving chisel , rondel chisel gouges and point the same that are used with any pneumatic air hammers.
(On marble ans stone
The maximum large of cutting edge in the chisels is 16 mm )
From diameter of the hammer for 12.5mm , insert the adaptor you can pass at chisels with diameter shank for 7.5 mm.
In addition (only on request ) are avaible for german market an adaptor for chisels with connection skan for 10,2.
The controllable percussion with the adaptors systems permits to have a multiple functionalities pass from working of medium
rough grinding untill comes extremely finishing working. In addition the regular percussion and the minimum vibration allows a precise
on delicate working like any other similar sculpture hammers do.
The hammer use fed by a single-phase motor.
SINGLE PHASE MOTOR v 230 V , 50 HZ ,037 kW
NUMBER OF IDLE REVOLUTION 2,770 RMP
CONNECTION CHISELS Ø 12,5mm/10,2mm */7,5mm
Adaptor from diameter 12,5 mm to diameter 7,5 mm(adaptor included)
Adaptor from diameter 12,5 mm a diameter 10,2 mm*
IDLE SOUND LEVEL ACCORDING 57db ( A )
THE NOISE LEVEL UNDER WORKING IS 85 db ( A )
HAND/ARM WEIGHTED VIBRATION
GUARANTEE in according to law no. 24/2002
With the innovative system of adapters you can use every chisels for the sculpture in commerce like:
tooth chisels , carving chisels and all kind of points
The connection chisels it's not a problem anymore ...Woodpecker supports chisels with connection shank from:
10,2 mm (also avaible on request)
7,5 mm (adaptor included)
For example: Insert adapter 1

you can pass from diameter of the hammer that is 12.5 mm to diameter of 7,5 mm
For esample :Insert adapter 2 (Only on request)

you can pass from diameter of hammere that is 12.5 mm to diameter of 10.2 mm ( this size is ideal for the german market; only on request )
Esample of tooth chisels,
for marble and stones working.

and if you have needed of a particular conection,we can supply reductions of any diameter.
The woodpecker hammer is ideal for decoration working.
Use all
Stone Carving Tools
come: milani tools , giorgi ,lario , tenir ,ricardo luengo , cignoli, bettoni,guillet ,Auriou , rebit tools, bavaria tools , rexid,
---
Gouges adaptators
permits to use all wood gouges in commerce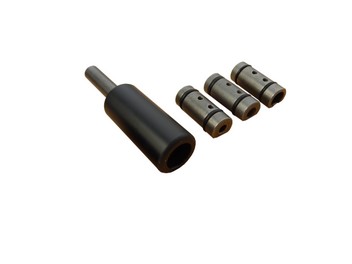 Example of wood gouges with adaptators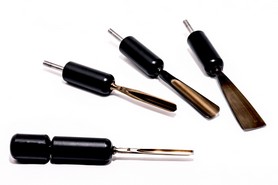 ---
Plastic cork for gouges adaptors

Permits to use wood gouges adaptators with wooden mallet
---
Sculpture made with Woodpecker hammer