Universal adaptators for all wood gouges


One for each wood gouges!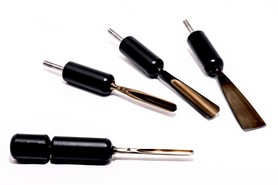 Watch video: " How to insert gouges on adaptators"
How to insert universal adaptators by company Gelma in Carrrara on all type of wood gouges
gli adattatori ideati dalla gelma con sede a carrara , consentono di impiegare tutte le sgorbie esistenti,
sgorbie con marche tipo , pfeil , stubai , two cerries , hamlet , stella bianca , due ciliegie per dire alcune marche ,
alte ancora come crown tools, flex cut , lie nielsen insomma propio tutte
inoltre tantissime sgorbie dalla diversa lama e foggia come le sgorbie a v che permette di incidere contorni dettagli e lettere , sgorbie a cucchiao, scalpelli , sgorbie per sbozzare ,sgorbia a curve.
per eseguire intagli nel legno , foglie , capitelli e fiori , putti insomma propio qualsiasi sgorbia da intaglio e sgorbia per scultura
inoltre possono essere utilizzate sui nostri martelli minipecker, martello elettrico woodpecker , e non solo anche su martelli pneumatici ad aria tipo , cuturi , f+k
e con il tappo che va inseito nell adattatore le sgorbie possono essere percosse con il mazzuolo in legno.
Adaptors for Minipecker and Woodpecker and cork for use by hand
universal adapters for all type of wood gouge . the same can be use with wood hammer thanks its cork